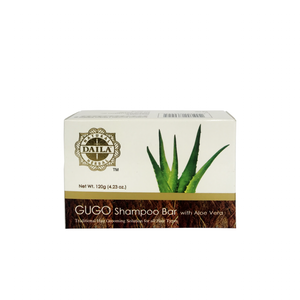 Introducing an All Natural Herbal Beauty Product from the Philippines: Gugo Shampoo Bar with Aloe Vera by Daila Herbal

Ingredients:
Coconut oil, Aloe vera, Gugo Fiber
Benefits:
Gugo - vines, a forest herb beaten to extract saponin.
Aloe Vera - known around the world as a wonder herb.
Coconut Oil, Aloe Vera, and Gugo packed together are the best traditional remedies to help clean the scalp, address hair loss and dandruff and give body and volume to the hair.
Why no conditioner:
With conditioner, hair goes flat and needs blow drying with heat. Heat affects the hair follicles and causes hair loss.
For best results:
Air or towel dry before brushing. Brush well to bring out the shine while keeping the body of the hair.