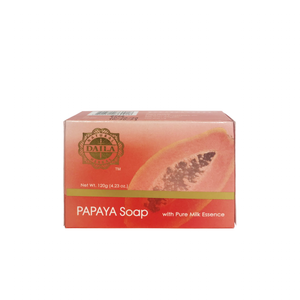 Introducing an All Natural Herbal Beauty Product from the Philippines: Papaya Soap with Milk by Daila Herbal

Ingredients: 

Coconut Oil, Papaya and Milk Essence.
Benefits:
Specially formulated for skin care. Papaya extract has been traditionally used for skin whitening. Milk is the beauty secret of the ages. Cleopatra credits her flawless skin to bathing in milk.
For best result: wash the face first, rinse, lather again and keep lather on for at least 10 minutes before the final rinse.